Faith Formation
"The definitive aim of catechesis is to put people
not only in touch but in communion,
in intimacy, with Jesus Christ."
-St. John Paul II, Catechesi Tradendae
('On Catechesis in Our Time')
Join us for an exciting new adventure this year with Family Formation!
Family Formation is a family-centered, solidly Catholic, and effective Faith Formation model which was created by the Church of St. Paul in Ham Lake, MN and is currently used by parishes all over the United States and Canada! The program is for students grades 1-6 and their parents and will replace our LITL Disciples program. It consists of 1 large-group meeting with a classroom lesson and 3 home lessons each month. There is also an Adult Formation component, and all are welcome!!
See the FAQs at the bottom of this page for more information.
Looking for something else? Have a question?
We'd love to hear from you! Email Nikki Silbernick at smcsafaithformation@gmail.com or
call (320) 529-3236
FAQs about Family Formation
What IS Family Formation?
Family Formation is a replacement to the LITL Disciples program which was the 1st-6th grade Family Formation program formerly used in our parishes, but it is also a much more comprehensive program including parents and adults as well. Family Formation, developed by the Church of St. Paul in Ham Lake, MN, is a method of learning our Faith which includes one large-group parish-wide meeting on the 1st Wednesday of each month, followed by home lessons on each of the other weeks of the month. At these meetings, families will share a meal together, then the adults and parents will hear a dynamic speaker on a topic of our Faith while the students go to age-appropriate classrooms to do a lesson on the same topic. Each family can choose a day and time of the week for the home lessons that works best for their schedule, which makes this program incredibly flexible! The home lessons are meant for 1st-6th grade students and their parents, but we encourage the whole family to do them together. Visit familyformation.net for more information on the program itself!
Why Family Formation?
Children are much more likely to put into practice the faith they see lived out day-to-day in the home, and Family Formation gives families the opportunity to learn their Faith together. Parents are called to be the 'first and foremost educators of their children in the Faith,' but so often parents feel under-qualified or too busy to live this out. Family Formation meets families where they're at and is easy, flexible, and effective, as has been proven by its incredible success all over the U.S. and Canada! We truly believe that the Holy Spirit is calling our parishes to be renewed in and through the family.
What is the Adult Faith Formation component of Family Formation?
We highly encourage adults of all ages to join us for the monthly gatherings on the 1st Wednesday of each month to enjoy dinner with other parishioners and hear the talk on an aspect of our Faith. We encourage adults to form small groups to go deeper into the month's topic on one of the remaining weeks of the month. This is a wonderful opportunity to learn more about our rich Catholic Faith and grow in authentic community!
I am a single parent / my spouse is not Catholic. Will this work for me?
Absolutely! All parents are given the graces necessary to lead their children to our Heavenly Father. The additional effectiveness of family-based catechesis is a wonderful blessing to families in these more difficult situations. The clear, simple explanations of the Faith as presented in Family Formation lessons are a great way for a non-Catholic parent to learn about Catholicism and to have their questions answered. Simply use Family Formation in the same way as other families, and invite the non-Catholic spouse to sit down with the family during Family Formation as well. Even if they do not say anything, their presence is a powerful witness to the children of the importance of what is happening.
How do you include younger and older children in the home lessons?
Each Home Lesson offers parents a great deal of flexibility and a variety of activities. This allows parents, who are the best judges of their children's skills and attention spans, to tailor lessons to their own family's needs. We encourage parents to challenge, but not overwhelm their children. With younger children, it is best to approach topics at the most basic level knowing that they will be covered again the next time through the three-year cycle.
Can you use Family Formation with high school students?
Family Formation is designed primarily for use with grades 1-6, but many families get all their children (including preschoolers, kindergarteners, and high schoolers) involved in doing the Home Lessons. The games, stories, and activities that reinforce each lesson are fun for the entire family, and there are many benefits to having your whole family learn the Faith together. Confirmation sessions in 10th grade will continue as usual but will not meet on Family Formation nights, so that the whole family can attend those together!
I have a second grader who will be receiving their 1st Communion this year. Do they need to be enrolled in 1st Reconciliation/1st Communion prep as well if they're doing Family Formation?
Yes! The 1st Reconciliation/1st Communion prep has an at-home catechesis method as well, and Family Formation will be a perfect foundation which will be supplemented by Sacramental preparation. You can register above for 1st Reconciliation/1st Communion preparation.
My children go to Catholic School. Is there any need to have them in Family Formation?
Faith formation at home is critical, regardless of a child's school environment. By using Family Formation, a family can grow together in their faith, and the shared faith experiences offered make for many teachable moments throughout life. Children receive significant lessons in the importance of continuous education in the Faith as they see their parents giving priority to their own progress. At every age, growth in our faith is important!
I have a Preschooler/Kindergartener. What is offered for them?
We encourage you to enroll your preschool and/or kindergarten students in our Catechesis of the Good Shepherd program on Wednesday evenings. CGS will still meet on Family Formation nights as well as the other Wednesdays of the month. We also encourage you to include your preschooler/kindergartener in the home lessons to the best of their ability!
I don't feel like I know enough to teach my child the Faith at home.
That's completely normal! God has chosen you to be the parent of your child, and you do not have to be an expert in the Faith to use Family Formation. Think of it as learning alongside your child rather than 'teaching' them. Each lesson is easily understandable, and by simply spending a small amount of time in preparation each week, you can become very familiar with the topic in the upcoming lesson. Additional references from Scripture and the Catechism of the Catholic Church are given for those interested in further study of the topic. One of the richest blessings of Family Formation comes as families learn about the beauty and truth of the Catholic Faith together. Many parents have testified to the fact that, through Family Formation, they have come to learn and understand the Catholic Faith for the first time!
Can I do the home lessons with other families?
Absolutely! We encourage families to seek out other families in the parish also participating in Family Formation to do home lessons together if that's something you're interested in. One parent could lead the first part of the lesson, another could lead the activity, and another could provide a snack for the evening, for example. This would be a great way to grow in community with other parishioners as well!
Will childcare be offered for my young children?
We may provide childcare if there is enough interest. Please let Nikki know if you are interested in this service!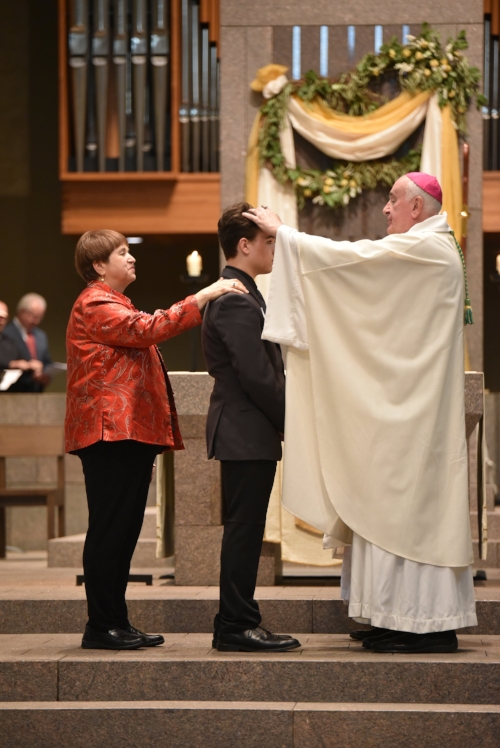 RCIA
Looking to learn more about the Catholic Faith? We would love to walk with you on your journey. Contact Nikki to learn more!
Youth Ministry
Join us for weekly youth group, to grow in faith together with other young Catholics! We meet every Sunday from 7-9pm at the Mary Center (next to St. Mary's Cathedral)! Invite your friends!
Pilgrimages
One of the most remarkable aspects of the Catholic faith is its universality. Join us as we travel the globe to help, build, educate, and engage others in the beauty of the Catholic Church and Tradition.